Vision Therapy
Working to improve lifelong visual function.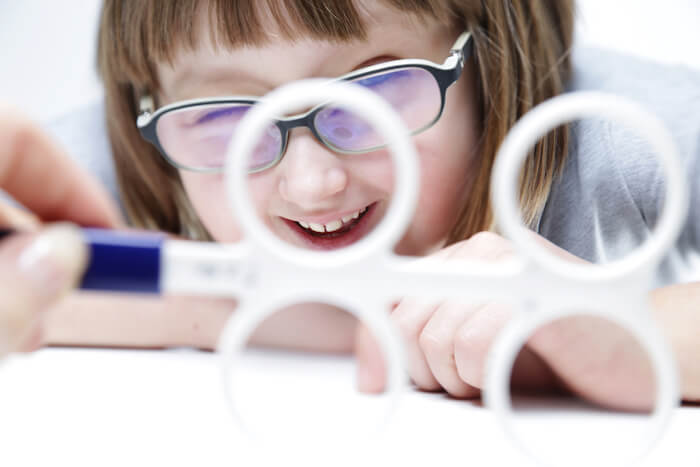 What is Vision Therapy and How Does It Work?
Vision therapy is a set of personalized exercises developed by an Optometric professional that teach you to process visual information accurately and comfortably.
Visual function training is possible thanks to the neuroplasticity of the brain. The brain can essentially be retrained to improve brain-eye communication with practice and repetition. Exercises strengthen the visual system for improved function, not unlike physical therapy or occupational therapy exercises strengthen other muscles.
The first step of vision therapy is to have a licensed optometrist at Colorado Eye Center evaluate how your eyes, brain, and body work together currently in order to develop a therapy plan that will correct the visual system. These activities vary depending on your specific needs.
The Benefits of Vision Therapy
Improved visual clarity
Resolved double vision
Improved eye tracking, making it easier to read, play sports, and drive
Improved visual attention and memory
Improved depth perception and spatial awareness
Improved head and body posture
The eyes, brain, and body work together cohesively
Vision Therapy Could Help These Conditions
Patients with the following conditions could benefit from vision rehabilitation:
Strabismus and amblyopia. Patients can be successfully treated without surgery (for strabismus) – both cosmetically and functionally. We treat patients of all ages.
Binocular vision dysfunctions. These include typical convergence insufficiency and accommodative issues. Binocular vision dysfunctions rarely exist on their own. Patients can benefit from a vision therapy program to ensure skills translate to daily life to prevent regressions.
Difficult refractions. Patients with consistent refraction who are never satisfied with their glasses. It may be a case of a fragile visual system that requires a professional taking the time to figure out what's wrong. This includes high hyperopes or symptoms such as migraines, headaches, diplopia, etc.
Traumatic brain injury. The patients who could benefit most from vision rehabilitation often slip through the cracks because they are still able to perform tasks they did before the injury. However, many experience increased fatigue and headaches. Brain injuries can be as mild as concussions and whiplash and as severe as strokes or tumors.
Learning-related vision problems. 1 in 4 children have learning-related vision problems and struggle with self-esteem issues or are misdiagnosed with ADHD or dyslexia. Many of these kids are bright but are unable to demonstrate their intelligence on tests and struggle with reading because of visual processing issues.
Mild developmental delays. Children who see occupational therapists, physical therapists, and other professionals that provide rehabilitative services may have a visual condition that could hinder their progress in other therapies.